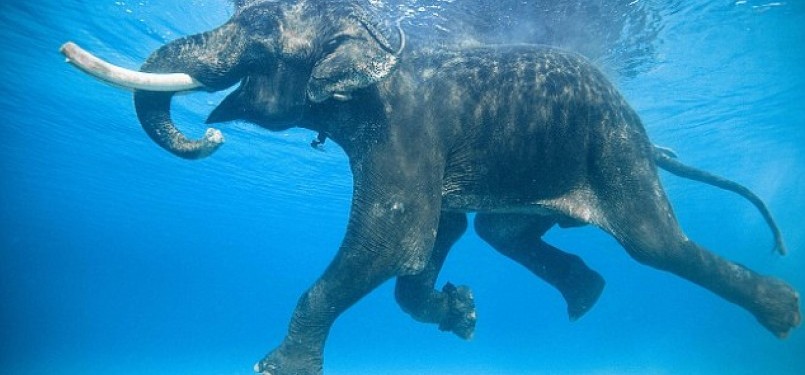 Rajan is the only elephant in the world could swim in the salty sea water. Rajan well be the last elephant can swim in the sea because he decided to retire this year.
Elephants that have three-ton body weight is almost reached the target 37 thousand pounds ($ 513 million). The value is the amount of debt the handler Rajan when he was three years ago to borrow money to free Rajan of 'slavery'.
Rajan, who is now 61 years old, has been entertaining people to earn money to pay the employer's debt. Rajan was willing to be photographed swimming in the sea action in order to obtain pieces of money to free himself and the employer of the winding debt.
Rajan and his handler, Nazrool (59 years), hoping to spend quiet time with their parents without the entanglement of debt. Both want to spend the rest of their lives in the jungle around Havelock Island. They will swim as much in the Indian Ocean that glitters like gold.
''When swimming with Rajan, you realize that she is very aware of the photo,''said Jody MacDonald a week more to spend time with Rajan. ''He's only swim if he really wanted to swim.''
The story begins with the employer's debt from the incident three years. Nazrool when it was forced to borrow money to buy and have Rajan. Because if not, Rajan going back to mainland India for 'forced labor'. Rajan was working push chunks of wood out of the sea to be loaded on ships.
''To help pay off debt, the photographer who wants to take pictures Rajan swim must pay,''said MacDonald. "He was like a dog when he was swimming. He is very conscious of the camera.''
Rajan eyes accustomed to the salty sea water. He can also do snorkeling. Now his last hope is to spend his old age with her employer.