have you feel how great you down the big river and enjoying the river wave in the middle of the river?? maybe some people say yes i have, but many others say what wonderful can i feel? or i don't care, haha you should try it because i get feel great memories and very delighted play with big wave and i so feel free when i spread my hand and the strong wind caress my body.
many of us feel bored when the demands of life always make us stress, angry, disappointed, and other much sh*t. and we know it's time to vacation. Actually i and my friend "fauzi" decide go to south borneo with five-our drive :'D by motorcycle and enjoy the long journey only with 60 km/h speed. the road, hill, swamp, bridge, and memories of ex girlfriend, all we've been through. hha. when i arrived in banjarmasin actually i rent a room for rest and mapping what i want to go on next trip. then we open the guitar that i bring from Don't forget to playing guitar to make a drowsiness.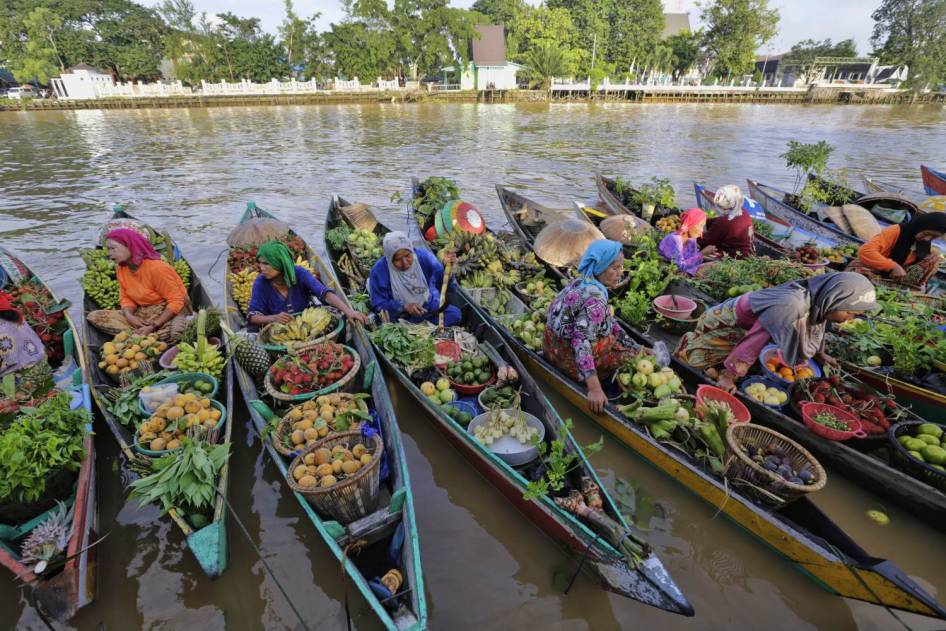 alarm hp start ringing on 5 o'clock. I slept only 4-5 hours. I wake up with spirit :'D and start next destination in bouyant traditional market in barito's river. Take a bath and then with a sober face we open the gps and start to go to the destination. After half an hour drive, finally i arrived in the bouyant traditional market. Many skiff contain vegetable, herbs and spices and traditional cake sold here. They all neatly arranged. The no less interesting are almost all sellers are moms. With little skiff and early morning they already stand by here but this activity had become a habbit for them. This become a uniqly scenery in addition they meet their needs they give all us vacation more interesting.
after we satisfied enjoy sunrise and breakfast with traditional cake. I start look the gps and thinking where we want to go. we agreed want go to the barito river and at first we just looking the big river here. while enjoying the sun light up and look many people are busy fishing, suddenly come a man look like a fisherman greeting us and offer me to down barito river. exactly, there was a bargain how much price we rent the boat. And we have a deal only with Rp 100.000 unexpected i can down the big river in south borneo.
Beautiful Barito Big River
sungai barito panorama manypict barito river panorama
now we in the middle of the big river, big wave and big wind, screame anything word like a crazy people. During we enjoying the wave, i speak with the "fisherman" asking for place of vacation destination. and he tell us there is an island in the middle of the barito river. what? the island in the river? ya this is big river bro.. nothing is imposible in this big river. we accepted that suggestion and finally without lingering i go to there while i still screaming and sing "i don't love you" my chemical romance song. :'D
vacation amazing kembang island barito river
From a distance looks a little island. it seems very crowded here. many domestics tourists and foreign tourists are on vacation. Our boat slow down and take anchor in the dock of the island. And the fisherman give us time and ready to waiting us. I took my pocket camera and enjoying the island and walking slow while enjoying the fresh air here. it turns out not only florest here, there are many much monkey here and some people give them peanut. The funny moment is when you bring something, the monkey guess what are you bringking is food. So you must be carefull. Better you don't hold anything or anything you bring better you pu in a bag. i don't was responsible if sometime you chased by monkeys.. :'D
welcome in pulau kembang island "vacation in river barito"
florest in kembang island vacation barito
Almost Two hours had elapsed, we've been through the path around the island and finally we got back to the dock beside the river. while waiting boredom, we keep looking the barito river, enjoy the wind and look the ferry pass on the river. we know the time can not be pause and always passe. We finally returned to the boats and get back to the hotel to get a lunch.. :'D
kembang island walking around "vacation in barito river"
the fatigue finally come (read:tired because typing this article :'D) oke might we continue this shambles article with other not important stories.. don't forget to coming here, and i conclude very impressed Enjoying Vacation in Barito River, Kembang Island, and Bouyant Traditional Market in Banjarmasin South Borneo.. see you bye..